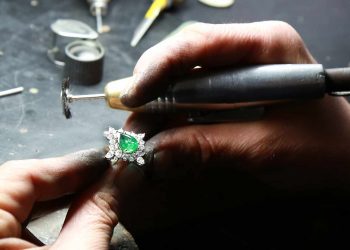 Our experts are skilled in offering jewelry repair in New Braunfels, Northcliffe, and Comal County, TX. Whether you have a small clasp that needs mending, a stone that needs resetting or a watch that requires repair, our jewelry and watch repair experts are prepared to help. We handle your jewelry with the utmost care and return it good as new.
With proper care and maintenance, your fine jewelry will reward you with a lifetime of enjoyment and luxury. San Anthony Jewelry & Formal offers a full range of professional jewelry repair, refinishing and refurbishment services that make it easy for you to recapture the pleasure your jewelry was meant to bring. Cleaning and shining is always included.
Our full suite of watch repair and jewelry repair services includes ring sizing, mountings, stone replacement, re-tipping prongs, jewelry cleaning & polishing, necklace repair, bracelet repair, clasp replacement, refurbishment & custom jewelry designs.
Ring Sizing
Have a favorite ring that doesn't fit anymore? Our experts can determine your proper ring size and professionally size your silver, gold or platinum ring to fit you perfectly.
Jewelry Mounting & Prong Re-tipping
Is your diamond loose in its setting? Proper maintenance and prong re-tipping can prevent you from losing your precious stones. We can inspect your jewelry mountings and prongs for wear, free of charge, while you watch our experts service your jewelry.
Stone Replacement
Missing gemstones from your jewelry? Our professionals can replace the stones in any setting — solitaires, three-stone rings, tensions settings, channel settings, bezel settings or pave. We can also set loose gemstones in your chosen mounting.
Custom Jewelry
Want to re-use your old jewelry to create a new custom design? We'll create a beautiful new piece of custom jewelry you'll cherish forever using a variety of techniques from lost wax casting to hand fabrication to deliver the unique jewelry design you desire. We can reuse your old pieces or furnish gold and stones from our supply.
Jewelry Cleaning & Polishing
Unsure about the right way to clean your jewelry? We can clean, polish and restore your jewelry to look like new! Our professionals will make your jewelry sparkle right before your eyes. We can also recommend the proper cleaning products for your specific jewelry.
Chain Soldering & Bracelet Repair
Is your favorite charm bracelet broken and unused? Your FAST-FIX professional can inspect and repair broken chains, pendants and charms – or replace worn out clasps and closures. We quickly refurbish your necklaces, bracelets and jewelry chains to look new again.
Pearls
Need
pearl restringing
? With time and normal wear the chords of pearl necklaces and pearl bracelets become brittle and susceptible to breakage. Let the professionals at San Anthony Jewelry & Formal prolong the life of your pearls by restringing and inspecting the clasps. We also restring beads.
Professional Ear Piercings
No appointment is necessary for ear piercings.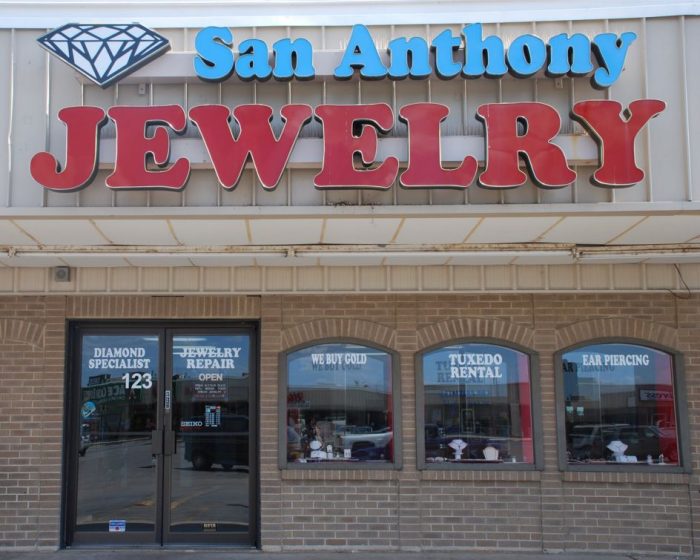 Get in Touch
For a quarter of a century, when it comes to finding a top jewelry expert in Texas, choose a name you can trust with San Anthony Jewelry & Formal. Customers have chosen us for their engagement rings, anniversary gifts and fine jewelry. We offer everything from custom pieces, to watch repair and jewelry repair, to Jewelry appraisals. Our knowledgeable experts can answer any questions in regards to selection and styles.
Contact us today at 830-606-0109